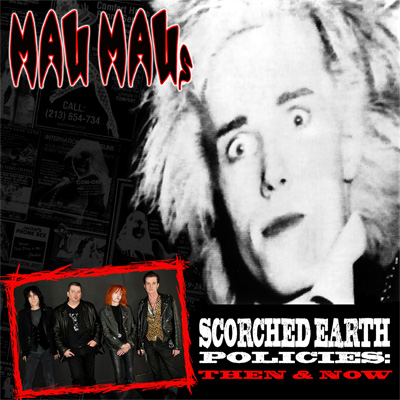 The Mau Maus-"Scorched Earth Policies: Then And Now" Well this explains what Geza X meant when he said he was busy with something awhile back. Hard review to write. I should be able to just say, "What did you god damned expect?" and leave it at that. But I'd probably get in trouble.
First off, if you've never heard of the Mau Maus/Berlin Brats, turn in your LA Punker card to this magazine for shredding, you don't deserve it.
The Mau Maus were the king gods of snatching defeat out of the jaws of victory. Always finding a way to mess it up. Impossible to get in to the studio, pissing people off, in short Punk as Fuck. They managed to get booted from Decline And Fall Of  Western Civilization for the love of god. One of the anti-hero's, one of the upper echelon of woulda, coulda, shoulda. Until now.
The classic 81 lineup somehow was corralled in to the studio, to actually attempt the completion of an actual album, with Geza X controlling the knobs, and probably locking the door to keep em the hell in there until they were done.
And what an album it is.
A combination of tracks from the '83 sessions with Robbie Krieger (you might have heard about him from a Val Kilmer flick) and stuff recorded now.  This is, well, "What did you god damned expect?" If you have any affinity and love for Masque era punk, this is the album that's been floating through your best nightmares for years now.
There are no hiccups and lacks in intensity between the '83 tracks and the new tracks, if somebody didn't tell you which were which, you'd have no clue they weren't recorded all at once.
This is late 70's LA punk. I'm not going to compare it to anyone. What's the point? You don't compare the influence to the influenced. If you don't know what this sounds like, your loss buddy-o. Because you're only getting what you should expect.
-The Right Wrong Reverend Paul Putrid
SPARK PLUG Magazine
Read it HERE
---